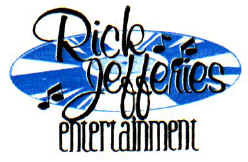 Rick Jefferies Entertainment
"Your Creative Professional Disc-Jockey Service Since 1986"
"We Create Memorable Occasions"
Southeastern - Mid - Western - Northern - Michigan
248-684-2276
Welcome To The Playlist! @ www.rickjefferies.com

Rick's Top 15,000 Playlist

We guarantee all of our Professional Disc-Jockeys carry all of these songs to your event. All titles are alphabetical by title, artist/group or hit release. Inclusion into this playlist is updated monthly and are shown based on greatest number of requests at Rick Jefferies Entertainment events, professional Disc-Jockey charts/pools/services, music sales and TOP 100 Dance Charts. We have over 100,000 titles available. Please choose from the following:
We have included basic song and recording year information in these Artist and Group Playlists. Artist and Groups are alphabetically displayed and are shown based on most number of requests at Rick Jefferies Entertainment events and Professional DJs charts/pools/services, music sales, artist and groups published works and TOP 100 Dance Charts. We do keep additional details, called
DISCOGRAPHY
of each of these artists and groups. We have over 100,000 titles available.
TOP 20 Client Music Request Comments:
Our Professional Disc-Jockeys bring a minimum of 15,000 songs by original artists to your event. We have performed at over 5,000 events since 1986 and enjoy many gracious comments by our clients. The most popular TOP 20 Music Requests Comments by Rick Jefferies Entertainment Clients include:
Having more choices can easily "Create A Memorable Occasion"
"You Get What You Pay For" and "Variety Is The Spice Of Life";
Real time choices can be made by Clients immediatley, not after the event;
RICK JEFFERIES ENTERTAINMENT DJs work exlcusively for RJE and carry the same TOP 15,000 shown below;
Your guests have musical tastes that include a variety of dance, music, soundtracks, sports, spoken word, television, theatre and videos.;
The TOP Requested Song of the event is YOURS!;
You remember what it is like to leave out or have less of the main ingredient in your recipe for a great time;
Entertainment service agencies sub-contract DJs that have a limited and completely different playlists;
You are a culturally, spiritually and emotionally sensitive to your guests' music requests
DJs that bring a limited amount of music "cramp your style";
The right music shows you care about your guests;
You want to choose between club, radio, remix and import versions of your favorite recorded music;
RICK JEFFERIES ENTERTAINMENT guarantees a back-up to your music at your event;
You are sure your guests will request the music other DJs leave behind;
Other DJs become professional when they offer choices suggested by PLAYliSTS of www.rickjefferies.com;
Music from many time periods from 1920's to Today's Hits can please the wide age ranges of yourself, friends and guests.
"DJ Rick Jefferies" Has Played The Hits Since 1986;
The Client avoids the popular uncommitted DJ phrase, "Well that's all we have" or "Didn't bring that one" or "Never heard of that one"
You have carefully considered that you can have a sucessful event with RICK JEFFERIES ENTERTAINMENT
Our Professional DJ provides the highest quality of music programming for you the customer!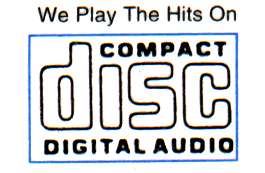 Comments? Suggestions?
We would like to hear from you!